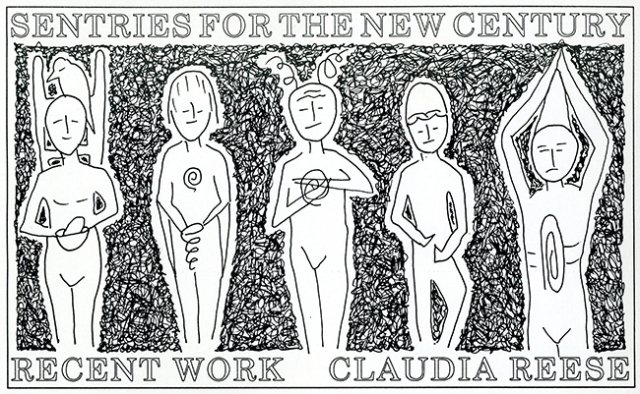 Claudia Reese
Sentries for the New Century
Thu May 12, 1994 - Sun Jun 19, 1994
Claudia Reese's exhibition used the human form to focus on issues of mental anguish, world tragedy, and future hopes. Claudia created pieces that were not only intellectually stimulating but visually appealing as well.
Each piece was intricately textured to create unique surfaces that invited the touch. Her colors were vibrant and iconoclastic; her forms were a combination of physicality fused with emotion. These traits alone would lead us to look at this artist's work, but it was the social comments, mysticism, and introspection of these works that were truly compelling.
About her work, Claudia stated that she felt she was guided by something outside herself. This made creating certain pieces very easy — they seemed almost to make themselves. Other pieces, Claudia said, were more difficult and were often abandoned, unfinished.
All of the pieces in this exhibition were done in clay. Her figures were formed by coiling the clay around itself to the desired shape. Faces and detail pieces were all shaped by hand. As one looked at these works, one would notice the depths of color and texture, the unusual treatment of hair, and the colorful decorative bases.
Claudia Reese is an Austin based artist and founder of Cera-Mix Studio. She holds an MFA in Ceramics from Indiana Unversity and a BA from Connecticut College. She has exhibited in galleries and tradeshows nationally and internationally. At the time of this show, she had recently exhibited at the Renwick Gallery at the Smithsonian Institution in Washington, D.C., and at Takashimaya in Tokyo, Japan.