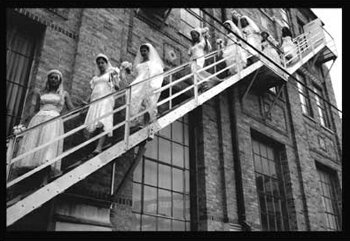 All Dressed in White
Featured Artists: Vicky Boone & Leslie Belt, Julie Hanus, Diane Zander Mason, Marianela Vega Oroza, Shannon Silva, Karen Skloss, Cauleen Smith
Thu Aug 3, 2006 - Sat Sep 9, 2006
Women & Their Work is pleased to present All Dressed in White, a video/ film exhibition exploring the emerging definitions of marriage. Curated by filmmaker Diane Zander Mason, this show features a range of media from a diverse set of practices from documentary to fiction, animation and performance art, to audio-based pieces and video installation.
Bridezillas.  Same-sex marriage.  Wife swap.  Starter marriages.  Fifty-percent divorce rate. What is marriage anymore?  With all of the competing contexts, what does it mean, now, for women?  Multimedia artists Vicky Boone and Leslie Belt,, Julie Hanus, Marianela Vega Oroza, Shannon Silva, Karen Skloss, Cauleen Smith and Diane Zander Mason all working in moving images and sound, explore the obsessions, repulsions, contradictions, and conflicts of marriage.
After reproductive revolutions, second and third waves of feminism, after single mothers, the resurgence of homey housewives and soccer moms, the women of this exhibition consider marriage as an institution to create a thoughtful mix of approaches and perspectives.  Their work conjures ghostly images of brides, stimulates conversations about marriage as interpreted by church and state, and ponders the beginnings– and endings– of relationships.