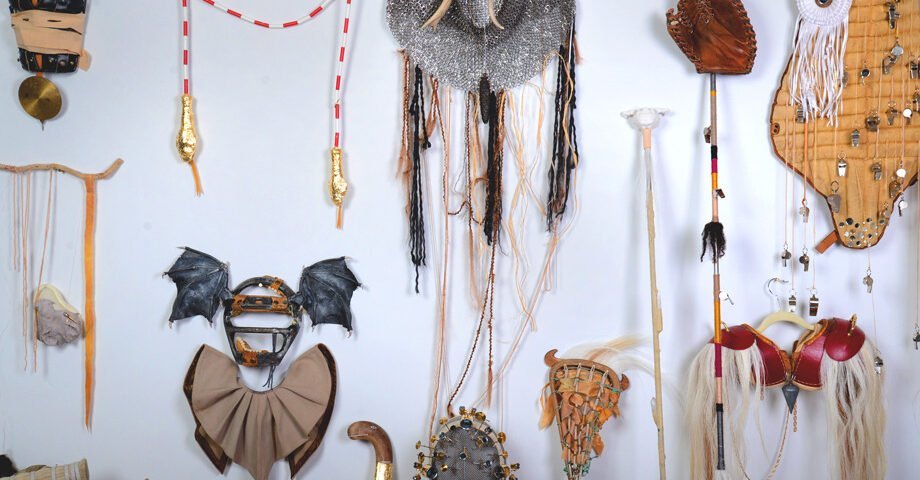 Alyssa Taylor Wendt
Compartments of Desire
Thu Nov 19, 2015 - Thu Jan 14, 2016
Compartments of Desire features new work that explores sexuality, fetishism, power, and, naturally, desire. Using a variety of media, Wendt challenges our notions of gender and taxonomy, in work that reflects her interest in myth, ritual and interactive performance. Check out this 6 minute Artist Talk with Alyssa Taylor Wendt.
Upon entering the exhibition, visitors are greeted by a set of wax hands titled Saint Grab. Cast from the artist's own hands using dyed black beeswax, the four hands are mounted to the wall and positioned at chest and crotch levels in various forms of playful aggression, A photographic series of formal portraits ring the gallery, showcasing a wall of new sculptural elements, UrGear. The UrGear accessories may remind us of warrior armor, or an arsenal of shamanistic props and are all made from vintage sports equipment and cosmological elements from Wendt's oeuvre. Investigating the relationship between sports frenzy and primitive rituals, Wendt constructed these objects of power and photographed them on a variety of models she selected from Austin's creative community. Shot against a black background and framed in dark tones, the portraits lend a formal nobility to the playful humor of the arsenal itself and reflect a sense of pride and triumph earned from the personal battles the photographic models have endured or transgressed.
Centered in the space sits a large three-tiered display stand with various trophies in the form of fetish objects, odd ephemera and sexual totems. Entitled The Spectral Arcane, these objects confront the viewer with suggestive forms and provocative plaques that humorously parody motivational awards with real life subjects. This sculptural centerpiece was inspired from stories of trial and triumph that were told to Wendt by the models. On the floor, we see a large veined rug, made of silicone and horsehair titled Swept Under. A lump under the runner holds a gathering of material, including written secrets about the artist.
Wendt presents a performative installation in the corner. On opening night, a security guard will mind this curtained booth. Visitors may peer into the space, intruding on a half naked woman, cutting latex and acting as a stand in for the artist herself. During the run of the show, the space will be visible to the public, showcasing an altered vanity table and all the rejected notes, to do lists, possible titles and ideas for the show itself from the artist's personal notebook. Wendt draws a parallel between the raw confrontation of the sexual undertones of this work and the process by which her inner life is exposed through the means of exhibition.
Much of the new work has been inspired by the restrictive politics of her new home base in Texas as well as the work of such artists as Joseph Beuys, Sarah Lucas, Pierre Huyghe and Cyprien Galliard and the writings of Bataille and Harmut Bohme. This playful approach to the search for sexual power within form, in an age of gender fluidity, online accessibility and hyper-social expression, places the artwork in an arena where contemporary art can be a vehicle for provoking conversation and debate.
UrGear: Various Installation Pieces, 2014-2015, used sports equipment, gold leaf, Icelandic horsehair, brass, latex, porcelain teeth, chain, coral, yarn, plaster, horn, bone, ash, lambswool, driftwood, Victoriana, silver thread, aluminum, quartz, Ace bandages and energy.