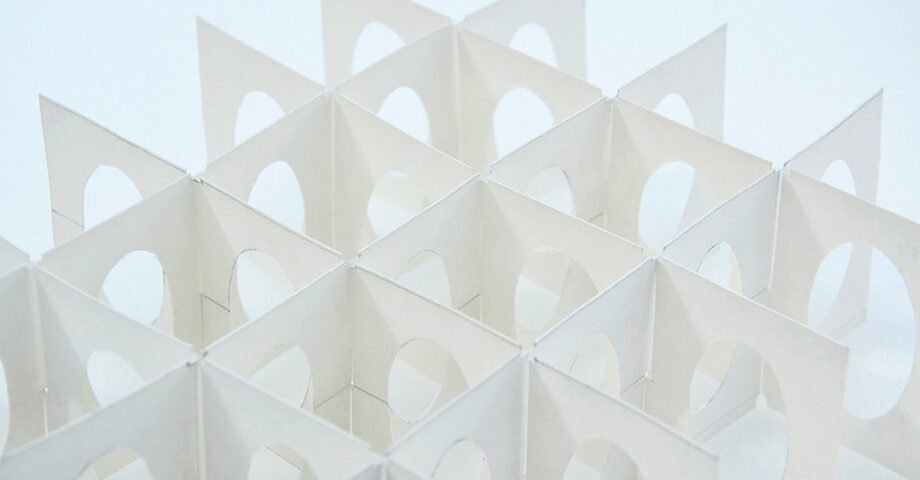 Ana Esteve Llorens
Studies for Future Objects
Thu Nov 17, 2016 - Thu Jan 12, 2017
In Studies for Future Objects, Ana Esteve Llorens examines space and form through sculpture by creating an ambitious 20-foot long structure made of interlocking wooden panels that commands the gallery. In addition to defining the space, Llorens emphasizes an on-going dialog with the body by creating human sized cutout voids in the panels. Exploring ancient techniques, she also creates weavings that are hung on the wall; all made by hand on a back strap loom, they are dyed with natural pigments extracted from plants, seeds and insects. Through this process, Llorens investigates our understanding of time, place, and memory.
Llorens creates meticulously crafted objects whose size and shape enclose space in a very particular way. They celebrate and offer a place for contemplation, and they materialize the time of their slow making.  Both the sculpture and the weavings have been made considering the space that they simultaneously inhabit and define.
The large central installation, created of industrial materials, has been crafted with the utmost care. This painstaking approach to materials is also apparent in the textile pieces that hang on the wall, dyed and woven following old recipes. For the artist, this is a way not only to avoid the gradual disappearance of this process, but also to connect with the cultures and the places where these techniques are still being used. The weavings are the result of a playful search, which depart from a shared set of initial rules and dimensions; their seams are the physical reminders of the methods of their making.
The pieces in this exhibition, performers and objects of action, constitute a meditation on time, its repetitive accumulation of gestures, which are a means to highlight difference, and the apparent care of their making provide a way to perceive the presence and nearness of the artist's hand.
Thank you to Fine Lumber & Plywood, Inc. for supplying the wood for this exhibition.