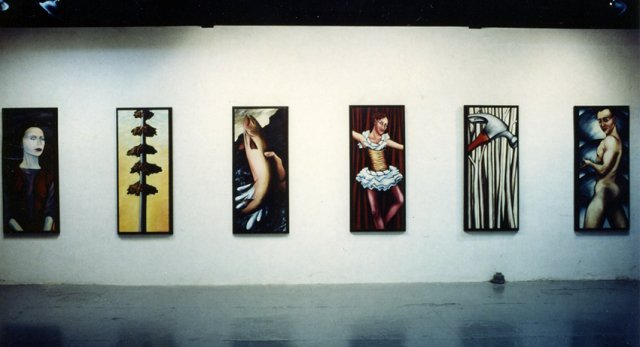 Connie Arismendi & Yvonne Leonard
Thu Oct 22, 1987 - Mon Nov 9, 1987
Women & Their Work presented recent etchings, oil paintings and monoprints by Austin artists Connie Arismendi and Yvonne Leonard in the Women & Their Work Gallery.
Connie Arismendi received her MFA in painting and printmaking from the School of the Art Institute of Chicago and her BFA in printmaking from the University of Texas at Austin. Her gestural tipped-perspective monoprints and paintings explored personal contradictions and experiences through the use of landscapes, figures, and imagery.
Yvonne Leonard graduated with an MFA in printmaking from U.T. at Austin and received her BFA from West Virginia University in Morgantown, West Virginia. Working in multiple panel series, Leonard manipulated the narrative images to convey a symbolic, esoteric action or character.