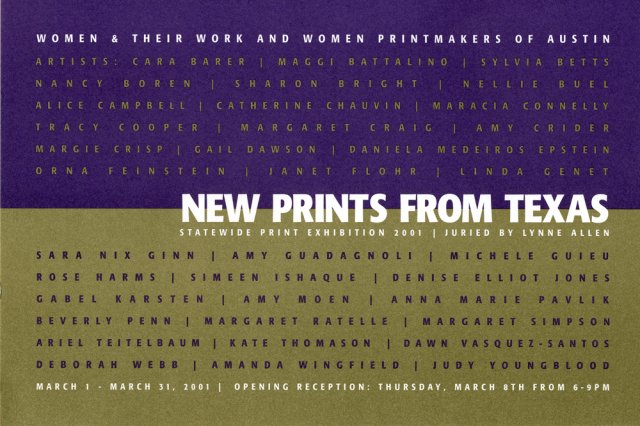 New Prints From Texas Juried by: Lynne Allen, Rutgers Print Center
New Prints From Texas Juried by: Lynne Allen, Rutgers Print Center
Thu Mar 1, 2001 - Sat Mar 31, 2001
New Prints from Texas exhibition featured the work of 36 women printmakers from Texas selected from a statewide call for entries by Juror, Lynne Allen, Director of the Rutgers Center for Innovative Print and Paper. The exhibition is co-sponsored by Women Printmakers of Austin. A reception for the artists and the public was held on Thursday, March 8th 6 – 9 pm with an informal talk by the juror at 7 pm. A panel discussion, Crossroads: Prints, Power and Possibilities, took place on Friday, March 9th, at 11 am at Women & Their Work Gallery featuring Allen, as well as Katherine Brimberry, Austin printmaker and CoDirector of Flatbed Press, and Anna Marie Pavlik, printmaker and Chair of Women Printmakers of Austin.
Texas artists selected for the exhibition were: Cara Barer, Maggi Battalino, Sylvia Betts, Nancy Boren, Sharon Bright, Nellie Buel, Alice Campbell, Catherine Chauvin, Marcia Connelly, Tracy Cooper, Margaret Craig, Amy Crider, Margie Crisp, Gail Dawson, Daniela Medeiros Epstein, Orna Feinstein, Janet Flohr, Linda Genet, Sara Nix Ginn, Amy Guadagnoli, Michele Guieu, Rose Harms, Simeen Ishaque, Denise Elliot Jones, Gabel Karsten, Amy Moen, Anna Marie Pavlik, Beverly Penn, Margaret Ratelle, Margaret Simpson, Ariel Teitelbaum, Kate Thomason, Dawn Vasquez-Santos, Deborah Webb, Amanda Wingfield, and
Judy Youngblood.
Lynne Allen, Director of the Rutgers Center for Innovative Print and Paper, is co-author of The Best of Printmaking: An International Collection. She is a nationally recognized curator of prints and has an MFA from the University of Mexico, MA from the University of Washington, Seattle, WA. In 1982 she received a Tamarind Master Printer Certification and in 1990 was awarded a Fulbright Scholarship to Moscow USSR.