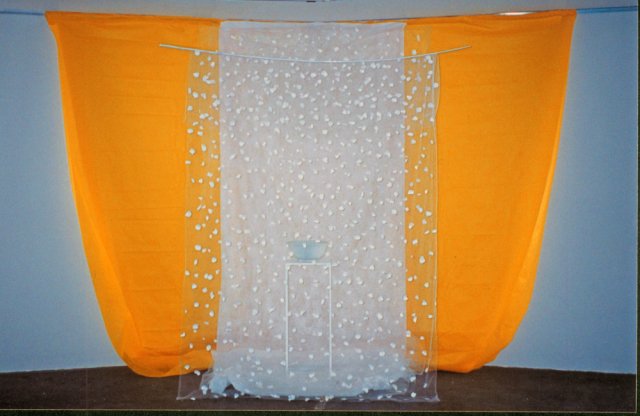 Thu Apr 3, 2003 - Sat May 10, 2003
The installation Shellife, by Austin-based Brazilian artist Regina Vater, consisted of an environment of three installations and photographs that reflected these concerns for Spirit, Time, Space, Environment, and Myths.
Ms. Vater stated, "My work has to do with ideas, with poetry and with a shamanistic approach to art. For me, any artwork, even in an unconscious way, is a form of reaching out to the creative and regenerative forces of the universe. What I try to accomplish in the installation Shellife is something that I have been working on since 1970. I wanted to establish a reconnection with something that I feel is vanishing or missing in western culture. That is, a sense of "reverence" or, sense of "wonder" which I think is still being preserved in some ancient traditions. The sacredness of nature, human integrity, and man's relationship to nature are better preserved in these cosmologies. These mythologies are an important source of inspiration for my art – to revive in the public, a notion of sacred space tied to the natural world. Essayist Mario Mieli states," It is interesting to observe how Space and Time have always been a central and constant concern to Vater. In terms of her own personal investigations and work, it lead her initially to research and study of the myths of the Amazon, and then the other Brazilian and World cosmologies as well. Through her work, the artist constantly reminds us of how much in need the contemporary world is of the knowledge contained in these cosmologies. To Vater, they are the real repositories of the ancient wisdom, an invaluable source that broadens the horizon of our souls.
The knowledge transmitted by these mythologies revealed to her the importance of a spiritual vision where the human being is an integral part of nature, and not an external entity meant to subjugate it at his own will. So, from her concern with Time and Space, and her investigations of ancient mythologies and cosmologies, Vater realized the urgency to incorporate ecology as one of her primary artistic concerns. In effect, to her credit, she was one of the first artists to deal with the subject of ecology, having participated in the first major international event ever dedicated to the issue, the 1976 Venice Biennale."