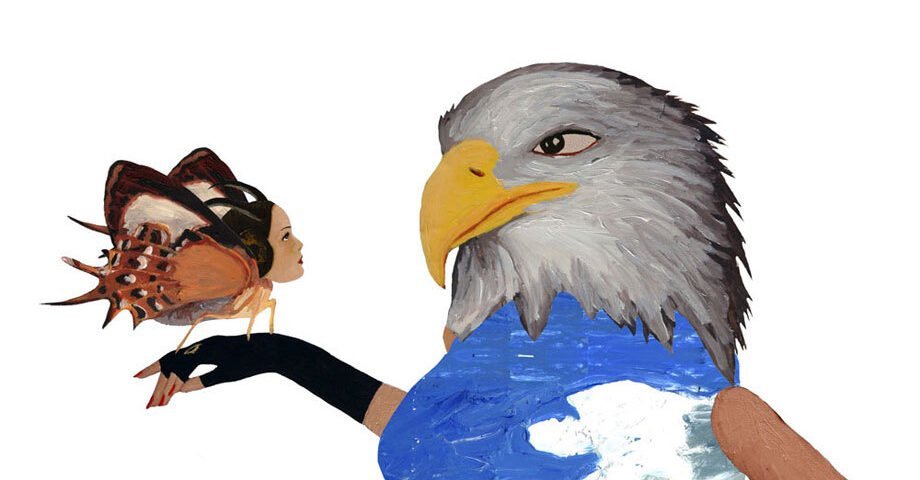 Yuliya Lanina
Arcadian Rhapsody
Thu Dec 12, 2013 - Thu Feb 6, 2014
Arcadian Rhapsody employs surreal imagery to simultaneously elicit feelings of uneasiness and empathy. Lanina paints and collages bizarre characters that come to life through mechanization, animation, and music. These modern gargoyle characters are made of parts that are not supposed to go together. They act out absurd situations in a somewhat blasé, carefree and humorous manner. They are projections of nonsensical events and possible consequences. The malformed features and the odd fitting of parts illustrate internalized trauma and torment while still engaging in the life-affirming celebration of power and its connection to the mysterious, the beautiful, and the sensual.
Yuliya Lanina is a Russian- born American multimedia artist, currently living in Austin. Her paintings, animations and animatronic sculptures portray alternate realities that fuse fantasy, femininity, and humor.
These characters come from a variety of sources. Tapping into Greek mythology with its half-human and half-animal demigods, Lanina also relies on her personal experiences of Russian fairy tales, which are filled with fantastic beings deeply rooted in paganism, mysticism, and symbolism. Her creatures and their stories move freely between logical and illogical, realistic and illusory, predictable and surprising. They represent a life that can only be lived, but never understood.
Lanina often collaborates with dancers, musicians and technical developers, creating multidisciplinary works that can be experienced outside of traditional exhibition venues. Arcadian Rhapsody features Theme and Variations, a new animation based on Olivier Messiaen's music, performed by Tatiana Berman (violin) and Irina Botan (piano); and Mama, a short film with a soundtrack by composer Russell Pinkston.
Special Thanks to Theodore Johnson, Riley Cassel, Yevgeniy Sharlat, Russell Pinkston, Julia Morton, Andy Howell and Melanie Harris De Maycotte.