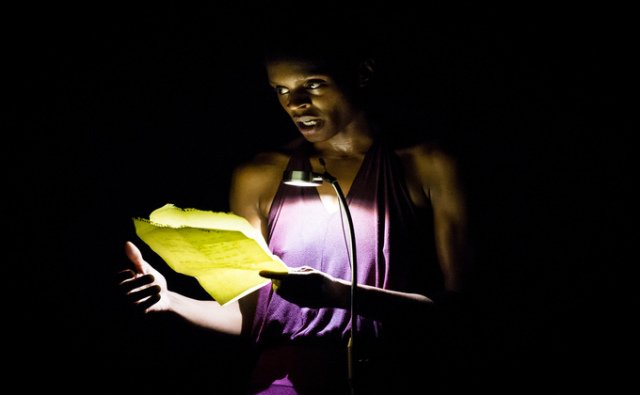 Okwui Okpokwasili Fusebox Performance, Artist Talks & Bronx Gothic
Artist Talks & Bronx Gothic
Thu Apr 7, 2016 - Sun Apr 10, 2016
Okwui Okpokwasili: Fusebox Waffle Chat
Friday, April 8 from noon – 1pm
At Women & Their Work, 1710 Lavaca St.
Join us for waffles, coffee and a conversation with Okwui Okpokwasili, Annie- B Parson, co-founder of Big Dance Theater, David Neumann, founder of the Advanced Beginner Group, and Brian Rogers from The Chocolate Factory Theater, who will moderate the discussion.
Since its founding in 2005, The Chocolate Factory Theater in Long Island City has supported the development and presentation of new work by a community of local, national and international artists working in dance, theater, performance, and multimedia. The Chocolate Factory is artist-founded and artist-led. Its Artistic Director, Brian Rogers, continues to create and present his own work while providing support to a close-knit community of forward-thinking visiting artists working at all stages of their careers.
Okwui Okpokwasili and Peter Born: Embodied Practice Workshop
Thursday, April 7, 2:00 – 3:15
UT Dance Studio WIN 1.172
Participants who are interested in movement—either as a professional artist or enthusiastic amateur. No experience necessary! Ages 18 and up. There are four slots available. Email Rebecca Rossen to attend [email protected]
A workshop for artists at all levels that focuses on finding an embodied practice. Exploratory questions may include: How does a body make narrative? How does one build a movement vocabulary around the psychic condition of a character? Participants will work individually and in groups to explore developing a character through movement. In this studio-based workshop, Okpokwasili and Born will guide artists through ways to express the personal story through the body. This is at the intersection of performance and dance.
Okwui Okpokwasili: Bronx Gothic (75mins)
Saturday, April 9, 7pm
+ Talk Back @ 8.15pm
At Ironwood Hall, 505 E. 7th St.
Free with your rsvp at the Fusebox Festival.
Okwui Okpokwasili: Bronx Gothic (75mins)
Sunday, April 10, 2pm
At Ironwood Hall, 505 E. 7th St.
Free with your rsvp at the Fusebox Festival.
A solo creation at the intersection of theater, dance and visual art installation, Bronx Gothic gives palpable force to the charged relationship between two girls on the verge of adolescence in 1980s outer-borough New York City–where Newports are bought in singles at the corner bodega, sex saturated notes are passed in class, and Orchard Beach erupts in flame.
Okwui Okpokwasili's acclaimed piece has been hailed as a breakthrough work. Hers is a performance of psychic and physical collisions that threaten to break the body—an unflinching look into the exquisite turbulence of one woman's memory. Created in collaboration with director and visual designer Peter Born, Bronx Gothic draws inspiration from Victorian-era novels and West African griot storytelling to reveal a tale of sexual awakening with humor, love, strangeness, terror, and rigorous physicality by a fearless mover.
"In language that is by turns blunt and poetic, crudely funny and incantatory, Ms. Okpokwasili conjures and probes this adolescent friendship, a jumble of insults, anger and love…A magnetic performer"  -The New York Times.
Okwui Okpokwasili is a New York-based writer, performer and choreographer. In partnership with collaborator Peter Born, Okpokwasili creates multidisciplinary projects that are raw, intimate experiences. As a performer Okpokwasili frequently collaborates with director and choreographer Ralph Lemon.