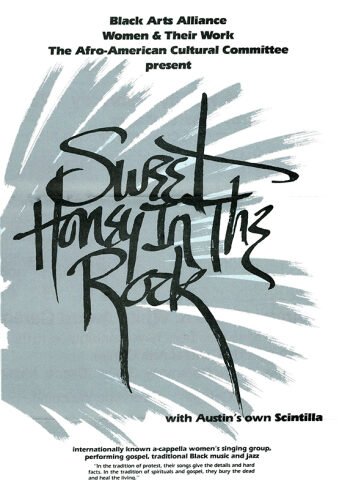 Sweet Honey in the Rock
Sweet Honey in the Rock
Sweet Honey in the Rock, internationally-known a capella black women's singing group from Washington, D.C., presented a concert in Hogg Auditorium on the University of Texas Campus. They appeared with Scintilla, an Austin-based black women's singing group started by Elouise Burrell in February, 1982.
The concert, which kicked off Black History Month (February) in Austin, was sponsored by the Afro-American Culture Committee of the University, Women and Their Work, and The Black Arts Alliance.
Sweet Honey in the Rock, a five-woman group, has been known for their poignant and strong portrayal of the suffering and struggle of people around the world. Their voices, accompanied only by an African gourd drum called the shakere, combine in a tapestry of gospel, jazz, rhythm and blues. The music derives largely from black oral traditions contained in children's games, chain gang chants, and church music. Many of Sweet Honey's songs have contributed to the history of liberation movements around the world by documenting the stories of past and present activists.
Members of the group were Bernice Johnson Reagon (founder), Ysaye Barnwell, Evelyn Harris, Yasmeen Williams and Aisha Kohlil. They had made three albums since 1974- Sweet Honey in the Rock, Believe I'll Run On, and Good News, recorded live. They later their message throughout Europe on tour during 1983.
In addition to their concert on January 30, they presented a free two-hour workshop on music, politics, and black cultural history, called "Songs of Struggle."