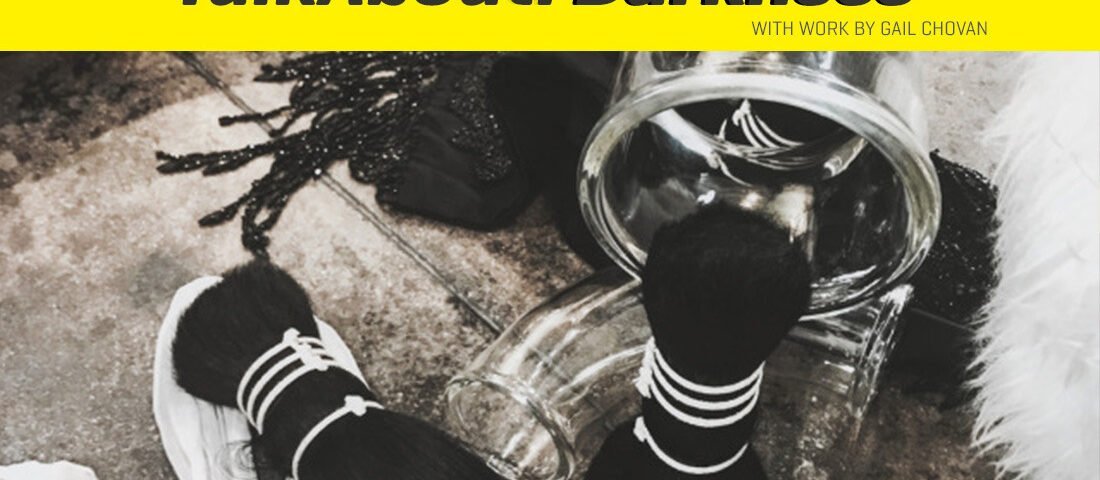 TalkAbout: Darkness
TalkAbout: Darkness
This event is in conjunction with Gail Chovan's No Trace of Now Will Remain, which is on view in the gallery through March 1st.
Exhibiting artist Gail Chovan will discuss her work, influences and inspiration with artist Alyssa Taylor Wendt and collaborator Alton DuLaney. Also joining the conversation will be theatre-maker Sam Provenzano and chain mail designer Abe Heath.
TalkAbout is a new program that facilitates casual Saturday morning conversations with artists and the people who inspire them.
This event is free and open to the public. Coffee, drinks, and breakfast snacks provided.
Gail Chovan works as a designer in Austin, Paris, and beyond. Her work has recently been on view in the Lone Star Fashion Show in Austin, at Galerie Virginie Louvet in Paris, France, and at Co-Lab Projects Demo Space in Austin. She is an educator at the University of Texas at Austin in the Division of Textiles and Apparel. Gail is the co-owner of Blackmail Boutique in Austin, TX.
Alyssa Taylor Wendt works as a multimedia artist and curator in Austin, Texas. She concocts installations and multimedia pieces and continues to show in solo and group exhibitions both nationally and internationally. Wendt had a solo exhibition at Women & Their Work in November 2015.
Alton DuLaney is an artist, creative director, tv personality, and writer living and working in LA, NYC, and Houston.
Abe Heath is a Women and Gender Studies student at the University of Texas at Austin who creates handmade chain mail textiles.
Sam Provenzano is a theatre-maker from Las Vegas, NV and M.F.A. candidate at UT Austin in Theatre for Youth and Communities. Her work and research focus on theatre for young audiences, including theatre for the very young and museum theatre.