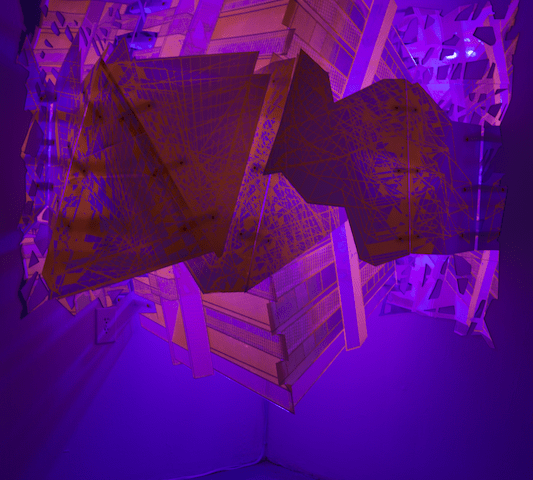 TalkAbout: Printmaking & Technology
In partnership with Print Austin, artists Evelyn Contreras and Hiba Ali will discuss how technology has influenced printmaking to create a multidisciplinary art form. 
TalkAbout is a program that facilitates casual Saturday morning conversations with artists. This event is free and open to the public. Chameleon Cold Brew coffee, Quack's 43rd St. Bakery teabreads, and vodka & orange juice cocktails provided.
Evelyn Contreras is a Southern California native who is driven by her curiosity and wonder. Evelyn received her B.F.A in Printmaking at CSU Long Beach and is a current M.F.A candidate at the University of Texas at Austin. Her current work deals with the manual and digital methodologies to create a cinematic and surreal experience through color, light, and form.
Hiba Ali is a new media artist and writer based in Chicago, Illinois. Her digital and sculptural installations focus on the history of objects that are produced from global circuits and their embedded codes, encompassing both the technological and sociological. She holds two undergraduate degrees from the School of the Art Institute Chicago with a Bachelor of Fine Arts in Film, Video, New Media and Animation and a Bachelor of Arts in Visual Critical Studies. She is a Master of Fine Arts candidate at the University of Texas-Austin. She has exhibited and presented her work in Chicago (IL), Toronto (ON), New York (NY), Istanbul (TR), Detroit (MI), Ann Arbor (MI), London (UK), Riga (LV) and Dubai (UAE).