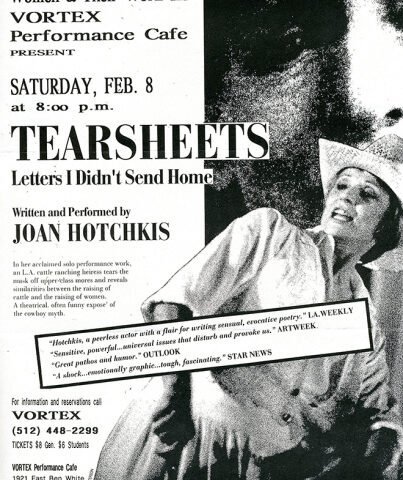 Tearsheets: Letters I Didn't Send Home
Written and performed by Joan Hotchkis
In this shocking and often humourous multi-media account of her childhood in a California cattle-ranching dynasty, Joan Hotchkis exposed the racism and sexism beneath the cowboy myth and tore the mask off upper-class mores.
TEARSHEETS was a searingly personal underground history of a California cattle ranching family. Based on authentic documents and interviews, stories spilled on the stage like so many torn snapshots, the images sensual, shocking and funny.
A white Anglo woman, an actress, goes back to her grandfather's ranch to exhume unspoken truths in her past. Buried under urban sprawl, the old ranch headquarters are now a tourist attraction open to the public. As the woman wanders through the rooms and skeletal gardens, her body becomes inhabited by the ghosts of the people and the animals that once lived there. She sees the chasms that rent her childhood, the racism and sexism of her people, the self-abasement of the women.
TEARSHEETS was a spoken blues about a larger family than her own, and about the ranch inside all of us, that buried place of rage and tender dreams.