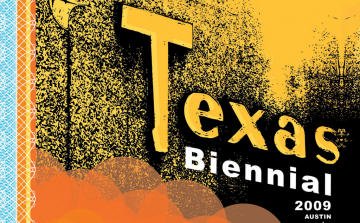 Texas Biennial 2009 Group Show
Texas Biennial 2009 Group Show
Fri Mar 6, 2009 - Sat Apr 11, 2009
Working in nearly every imaginable media, from beads to pixels, in noisy installations and finely rendered paintings, these 31 Texans negotiate the tough task of making art in a culture only marginally supportive of their efforts.
Curated by Michael Duncan. Featuring Christie Blizard, Marc Burckhardt, Susan Cheal, Catherine Colangelo, Beau Comeaux, Celia Eberle, Kana Harada, Jules Buck Jones, Ryan Lauderdale, Peter Leighton, Anne Longo, Mona Marshall, Carolyn Zacharias McAdams, Kim Cadmus Owens, Harmony Padgett, Jamie Panzer, Justin Parr, Gladys Poorte, Olga Nicolaevna Porter, Anila Quayyumagha, William Rosshirt, Keith Allyn Spencer, John Spriggins, Charlotte Smith, Morgan Sorne, Mary Stengel, Rachael Stine, Barry Stone, John Swanger, James Talbot, Raymond Uhlir.
Michael Duncan is Corresponding Editor for Art in America and his writings have focused on maverick artists of the twentieth century, West Coast modernism, twentieth century figuration, and contemporary California art. His curatorial projects include surveys and recontextualizations of works by Pavel Tchelitchew, Sister Corita Kent, Kim MacConnel, Lorser Feitelson, Eugene Berman, Richard Pettibone, and Wallace Berman.
In addition to his work nationally, Duncan has continued ties with Texas by participating in the 2005 Viewpoint lecture series at the University of Texas at Austin, contributing essays for the UT Press book, Melissa Miller, the catalog for Arthouse at the Jones Center's 2006 exhibit, The Gospel of Lead: Dario Robleto and Jeremy Blake, and curator of 2007's Art in the Metroplex at TCU, Fort Worth, TX.