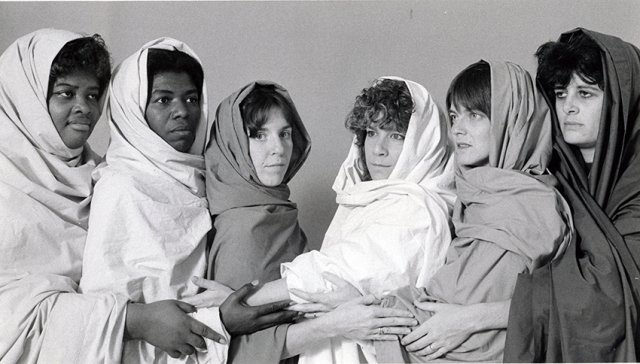 Fri Feb 15, 1985 - Sun Feb 17, 1985
Composer and vocalist Tina Marsh premiered an original cantata, "In Mary's House," at the Dougherty Arts Center February 15-17. The multi-disciplinary event of music and dance was sponsored and produced by Women & Their Work.
"In Mary's House" featured Collaborative Voices which was made of Austin vocalists Elouise Burrell, Suzie Stern, Chris Crawford, Sabrina Cummings, Donna Menthol and Tina Marsh. Choreographer Heloise Gold created dances for herself, Marilyn Yank, Sally Jacques, and a twelve-member children's chorus.
Additional performers included Bill Jeffers who contributed words and poetry, and a five-piece ensemble under the direction of Rock Savage.
Composer Marsh called her work a "cantata" because it involved music, dance and theater. The members of the children's chorus, who ranged in age from six to thirteen, created elaborate and primitive masks to wear during the performance under the guidance of Natalie Herling-Sowash. Janet Behrens Seibert created a performance canopy as part of the stage setting.
IN MARY'S HOUSE was "an examination of the Spirit which moves through Woman in everyday life," and Marsh went on to describe the work as "dreamlike and evocative; its images are timeless and universal." Marsh, a jazz vocalist, is interested in music of many cultures. The music of IN MARY'S HOUSE drew as much from traditions of Celtic, African and Native American music as from American folk and Gothic Plainsong (Medieval church music.) The cross-cultural sound of Marsh's music emphasized the broad and timeless themes of the cantata.
Gold's choreography for the cantata matched the evocative nature of the music. Her dances were post-modern and ritualistic. Gold created movements that look ceremonial because they are full of the meaning of what people experience as sacred in their everyday lives.
IN MARY'S HOUSE was an ambitious project for composer Marsh and was over a year and a half in the making. Marsh's past work includes directing the Creative Opportunity Orchestra, composing for and singing with Collaborative Voices, accompanying the Deborah Hay Dance Company and performing with her own group, Ahora.
Collaborative Voices first performed in 1981 in the Women & Their Work program "Women Around/Women Around Town." Although each member had been well known in Austin music circles for their own accomplishments, the challenge of the group was to create and perform new works or arrangements in a wide range of musical styles.
Chris Crawford had been performing in Austin since 1977 in nightclubs, recording studios and theatrical productions including "A Day in the Life," a musical account of the life of John Lennon. Donna Menthol was also well known to area audiences for her performances with Mixed Brew and other groups.
Sabrina Cummings and Elouise Burrell had performed together in the a capella group Scintilla. Cummings was the primary vocalist with the funk band Blue Mist for six years and was a soloist with the choir of the St. Peters Methodist Church.
Elouise Burrell, 1984 recipient of the Austin Songwriter Award, had recently released an extended play record of "Thinking About S.E.X." and "USASA" with her band Trickle Down. Also known to local jazz enthusiasts was Suzie Stern, who had appeared both with her quintet and in solo performances. In addition to her jazz work, Stern performed in several Latin music groups, Texas swing, and big bands.
Composer-writer-musician Bill Jeffers joined Rock Savage and James Fenner on percussion for the performance. John Hagen on cello and John Policek on hammered dulcimer completed the ensemble.
Photographs by Patti Polinard.